I'm a great fan of fairies (pretty not scary). This little 5 ins cutie was made with a pipe cleaner framework covered with fine fabric and then dressed in soft pinks and greens. She has acetate wings decorated with glitter. I wanted her to have long curly blonde hair so knitted a small amount of mohair yarn on fine needles. I immersed it in hand-hot water then squeezed out the water and left it to dry. Finally I pulled back the knitting which resulted in gorgeous curly locks for the fairy. (When pulling back don't wind yarn into a ball
or you lose most of the curl).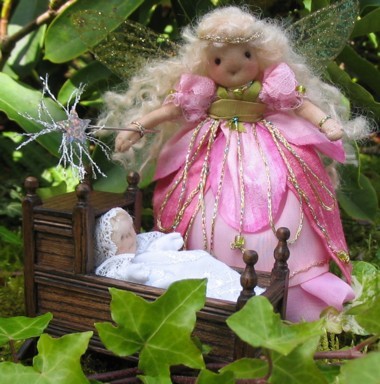 Fairy greetings
Her name is Fairy Rosebud and happily she's very photogenic. So far she has willingly posed for two greetings card pictures. The first with a crib from my dolls house (baby arrival congratulations card).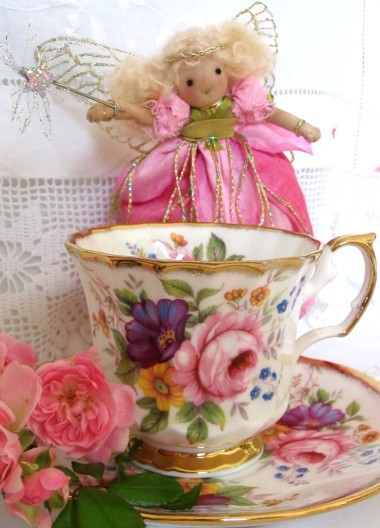 Posing with a pretty teacup this second card was made as an invitation to a friend for a cup of tea and a chat. She's had a few troubles over the past year and I thought a little bit of fairy magic and a cuppa might just cheer her up.