Don't you just love coloured pencil crayons?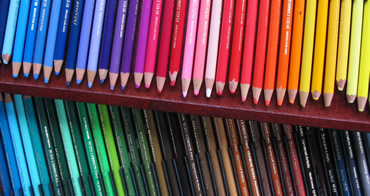 I have a polished wooden box containing 72 different shades and it excites me just to look at them.
New crayons were always a gift to be treasured when I was young and I still have an old box containing the much used remnants of my crayoning childhood.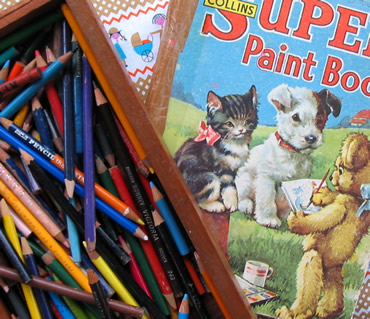 My pencil crayons and a colouring book kept me busy for hours.

These days my creative colouring is often done with knitting yarn so I decided to marry the two and experiment with knitting a pencil crayon.

First I made a blue one.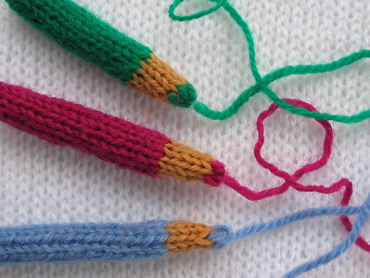 Then I made green and magenta ones. If you'd like to give it a go here is what you do...
DK yarn and 2.25 mm needles (US size 1). Stocking stitch throughout. The knitted fabric should be quite firm as you don't want a lot of stretch.
Choose your colour and cast on 9 stitches. Knit to the required length (I did 20 rows). Change to beige (wood colour). Knit 1 row then knit 2 together at the start of the next 4 rows (5 stitches remain). Change to main colour and knit one row. Remove stitches onto a sewing needle and gather tightly. Roll the knitted piece to create a pencil and ensure all the loose ends are tucked inside. Stitch to close. Make the pointed (sharpened) end as 'pointy' as you can. To knit a fatter pencil simply cast on more stitches and knit more rows, its as simple as that. Perhaps a child's old hand knitted sweater could be cheered up with the addition of a few knitted pencils in bright shades!
Pencil Cosy
This was an after thought and I think it could catch on!


The previous pattern (nine stitches on 2.25 mm needles) will create a tiny tube that perfectly fits a standard pencil. The cast off edge is at the top. Finished with 2 rows of garter stitch. You should weave in the loose ends then wrap the knitted piece round the pencil which makes it easier to stitch the seam and close the bottom. A few beads and a woolly tassel produce the finishing touches. Little girls will love these pencil cosies and they'd make cute little gifts for their friends.